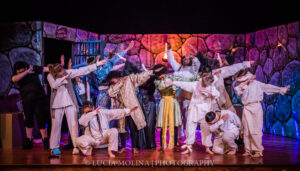 In partnership with the North Texas Volunteer Center Truancy Program, Bishop Arts Theatre Center offers an apprenticeship program that not only teaches students how to perform on stage but also the design aspects of theatre such as lighting, sound, costuming, and set design.  The TNT (Teenagers And Theatre) Apprenticeship typically begins in January and culminates in April with a Shakespearean production where the students run the entire show.
Studying theatre, especially classical text, is an innovative way to teach text interpretation, apply critical thinking skills, and improve reading skills.  Last year, ninety-one percent of the students enrolled passed the Reading part of the STAAR test.  Our objective is to touch students with the arts in a way that informs the rest of their academic interests and transform their sense of personal potential.  Students work alongside theatre professionals throughout the camp with the primary goal of reducing recidivism.
The components of this theatre camp include script analysis, improvisation, directing, playwriting, lighting design, costume design and acting techniques.  Students are taught the fundamentals of various components of theatre including audience etiquette.  TNT fosters an environment where participants can ask questions and learn the do's and don'ts of performing arts.  By creating a consistent environment focused on the creative arts, participants become effective communicators, develop high-order thinking, and work together as a team.
Call 214-948-0716 for an enrollment application.
This program is made possible by the generosity of our sponsors the Harold Simmons Foundation, Texas Commission On The Arts and the Oak Cliff Lions Club.