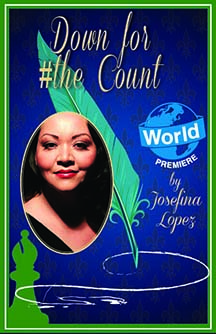 5 Women. 5 Plays. 5 Star Theatre
February 16 – 26, 2017
Down For #TheCount seeks to level the playing field and give a platform to more female voices in American theatre. Join us for an evening of prolific short plays by some of the country's most celebrated playwrights which includes a world premiere by Josefina Lopez, a play that tells the story about the gentrification of a Latino neighborhood by hipsters. Directed by Gail Cronauer.
Our line-up includes:
Hypsteria by Josefina Lopez (world premiere)
Things That Go Bump by Camika Spencer (world premiere)
Smashing The Patriarchy by Cecilia Copeland (regional premiere)
The Red Zone by Ashley Edwards
How To Iron A Shirt by Carmela Lamberti
Not suitable for young audiences
Purchase Tickets
Date/Time
Date(s) - Feb 16, 2017 - Feb 26, 2017