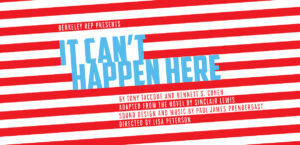 It Can't Happen Here
In Partnership with Berkeley Rep
October 13 – November 13
Written in 1935 during the rise of fascism in Europe, Sinclair Lewis' darkly satirical <em>It Can't Happen Here</em> follows the ascent of a demagogue who becomes president of the United States by promising to return the country to greatness. Oscar-nominated actor David Strathairn (Good Night, and Good Luck) will join many of the previous cast members to bring this political drama to life. On Tuesday, October 13 a radio production of Sinclair Lewis' novel will broadcast at 5PM PDT/7PM CST/8PM EDT via YouTube. A live Q&A session with the creative team will take place following the broadcast. Mark your calendars.
Date/Time
Date(s) - Oct 13, 2020 - Nov 13, 2020