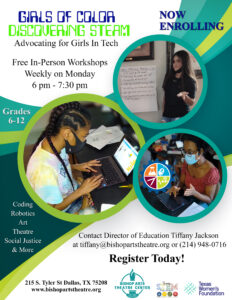 The underrepresentation of women of color in STEM fields has reached crisis proportions. The National Center for Education Statistics reported that in 2015 only 2.9% of Black women, 3.8% of Latinas, and 5% of Asian women earned STEM degrees in higher education. Higher education scholars have raised a clarion call to the intersections of gender, race, and STEM culture that perpetuate oppressive forces which systematically track girls of color away from science and math throughout their education, limiting their training and options to go into STEM fields as adults (Alfred, Ray, & Johnson, 2019). Gender stereotypes, the male-dominated culture, lack of role models, and math anxiety are key factors that further entrench gender STEM gaps (American Association of University Women, 2019).
Bishop Arts Theatre Center (BATC) is partnering with Young STEM Professionals (YSP), a nonprofit that provides STEM enrichment and leadership skill-building programs for minority girls ages (12-18), and the University of North Texas at Dallas (UNT Dallas), a four-year public university serving predominantly Black and Latinx students, to pilot an intervention approach that aims to influence the trajectory of girls of color to pursue higher education and careers in STEM fields by integrating the arts, cultural identity, and community engagement.
Enrollment is now open for our Girls of Color Discovering STEAM (Science, Technology, Engineering, Art, Mathematics). The workshops will be held every Monday beginning November 29, 2021 from 6:00 pm – 7:30 pm.
For more information contact our office at info@bishopartstheatre.org.