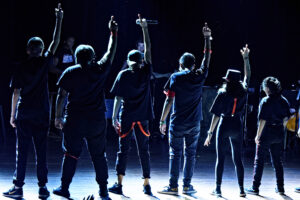 Bishop Arts Theatre Center TNT (Teens in Theatre) apprenticeship program was created to foster and support the next generation through art education, peer mentoring abilities, and free expression.
TNT'S objective is to touch students with the arts in a way that informs the rest of their academic interests and transforms their sense of personal potential.
As a result of the program, students have been able to apply text interpretation and critical thinking to help improve reading skills. The program has a proven record of success. In previous years, ninety-one percent of the students enrolled passed the Reading section of the STAAR test. The improvements in academics for our TNT students continue to rise.
In September 2018, BATC in conjunction with the Dramatists Legal Defense Fund, Pen America, and Humanities Texas presented Banned Together: A Censorship Cabaret as part of the TNT apprenticeship program during Banned Books Week, (September 24th-29th) an annual celebration of freedom of expression. The production was directed by Adam Adolfo with musical direction by Anthony Holmes.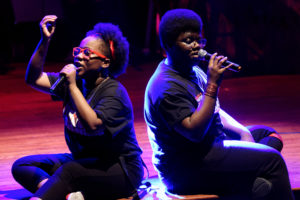 Emphasizing leadership skills and civic engagement, students from Barack Obama Male Leadership Academy, D.A. Hulcy STEAM Middle School, and the Dallas County Juvenile Department worked diligently through the creative process for four weeks. One of the most treasured experiences of the program was that the students were mentored by Pulitzer-Prize winning playwright, Doug Wright who also happens to be a native of Dallas, TX.
Today, TNT has evolved into our Teen Advisory Council. According to research from the Aspen Institute National Commission on Social-Emotional and Academic Development, current and recent high school students don't believe their schools have done enough to help them develop socially and emotionally, and most graduates don't feel prepared for life after high school.
The Teen Advisory Council creates a safe inclusive space for teens to engage in honest and challenging dialogue. Through peer-to-peer mentorship, youth use art as a tool to address social issues affecting their community and beyond. Led by young creatives, the students are given a seat at the table to ensure that the youth voice is present during yearly planning for the season while establishing a global movement of uncensored self-expression.
Through collaborations with organizations like the Dallas County Juvenile Department and Volunteer Now, teens are recruited to help reduce the rate of recidivism. Please see attached the Teen Advisory Council Rubric.