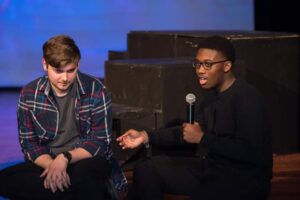 Bishop Arts Theatre Center Teen Advisory Council is designed for thought-leaders ages 13-18 who have a passion for art, culture, and community engagement. This volunteer program empowers students to take on new challenges while exploring careers in professional theatre. The program infuses Social Emotional Learning to help meet the development needs of teens.
According to research from the Aspen Institute National Commission on Social-Emotional and Academic Development, current and recent high school students don't believe their schools have done enough to help them develop socially and emotionally, and most graduates don't feel prepared for life after high school. The Teen Advisory Council creates a safe inclusive space for teens to engage in honest and challenging dialogue. Through peer-to-peer mentorship, youth use art as a tool to address social issues affecting their community and beyond. Led by young creatives, the students are given a seat at the table to ensure that the youth voice is present during yearly planning for the season while establishing a global movement of uncensored self-expression.  Please see attached Teen Advisory Council Rubric.
The Youth Benefits include:
» building strong and lasting friendships
» developing greater self-esteem and self-confidence
» developing communication skills
» developing leadership skills
» developing organizational skills
» gaining self-worth and inner-strength to battle negative peer pressure
» developing winning attitudes
» learning how to take responsibility for their actions
» gaining volunteer hours
Join us on the first and last Tuesday of every month, starting February 23, 6:00 – 7:30 pm.
Meeting ID: 852 6067 2309
Password: 074440
For more information contact Tiffany Jackson, Director of Education at Tiffany@bishopartstheatre.org.