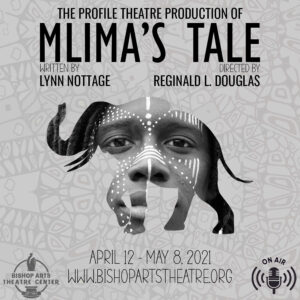 Mlima's Tale by Lynn Nottage, an audio play in partnership with Profile Theatre
Directed by Reginald L. Douglas
April 12 – May 8, 2021
BATC presents Profile Theatre's production of Mlima'sTale by Lynn Nottage, directed by Reginald L. Douglas. Two-time Pulitzer Prize-winning playwright Lynn Nottage, tells the provocative story of Mlima, a majestic elephant trapped in the clandestine international ivory market. Beginning in a game park in Kenya and traveling around the world to a billionaire's penthouse in the West, the play tracks the trajectory of Mlima's tusks through real-life consequences of animal poaching. Mlima's phantom follows close behind marking everyone involved as complicit in his demise.
"This production, directed by Reginald L. Douglas, is so vibrant and alive that I could easily fill in the visuals with my imagination. […] a remarkably multisensory experience. -Krista Garver, BroadwayWorld