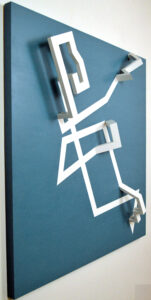 Paul Peña is a self-taught 3-D geometric artist originally from the northwestern (Washington) region of the United States. He primarily utilizes the trompe l' oeil technique, but does not use the traditional, realistic imagery to create the illusions. Typically, he stays within the abstract geometric genre to create the three dimensional presentations. 
Paul completed his first artist residency in Dallas in 2014 that was generously sponsored by The Fairmont Hotel who also sponsored his first solo exhibition.
He participated in his first international group exhibit in 2015 in conjunction with LuminArte Gallery (Dallas, TX) and the Machon Hamayim Municipal Gallery (Tel Aviv, Israel). 
He was also accepted into the Museum of Geometric & MADI Art's 2015 Biennial Show and invited to participate as a first-time juror with Frisco Art Gallery's 2015 Group Exhibition.  
His current body-of-work can be seen at the Kettle Gallery (Dallas, TX), LuminArte Gallery (Dallas, TX), and CINQ Gallery (Dallas, TX).
The gallery is open during performances and events at the Bishop Arts Theatre Center.