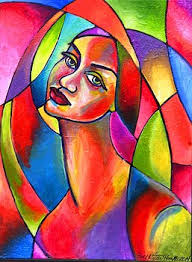 Beth Ritter-Perry creates images that are shimmering, warm and inviting, evocative of fantasy, adventure, gypsies and the Bohemian life.  They are celebrations of color and pattern reminiscent of the energy of a Moroccan souk, a market in Ghana, a festival in Mumbai or the order and grace of a geisha's kimono.  In her paintings and art quilts, she depicts elegant and exotic women (alter-egos?) in far away and imagined places and narratives. Ritter-Perry works in a variety of media such as painting, drawing, art quilts, jewelry, ceramics, printmaking and mixed media.
Beth holds a Masters of Fine Arts from the University of Wisconsin-Madison and is the founder of Caprichos Studios.  She is available for trunk shows, conventions, conferences and exhibitions and home shows by request.  Beth also does special bespoke pieces for special occasions such as weddings, quinceaneras, and sweet sixteens.
The gallery is open during performances and events at the Bishop Arts Theatre Center.