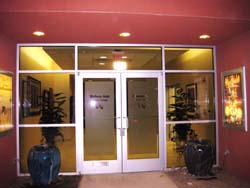 It has to be North Texas best-kept secret.
Theater Jones
A gorgeously renovated venue.
ArtDFW Magazine
"…a gleaming new performance space in Oak Cliff."
Dallas Morning News
The Bishop Arts Theatre Center (BATC) is building a legacy as an important link in Dallas' cultural history.  It is a charming building near the Bishop Arts District that offers comfortable seating for theatergoers with the privacy of balcony suites, truly an intimate theater experience.
The building was erected in 1914 as the Bluebird Theatre, a silent movie house. It operated until shortly after 1922 when the Rosewin Theater opened right around the corner on Jefferson Blvd.  The building still stands with a faux log front and became an auto repair shop until it was purchased by a well known Dallas photographer.   For many years the property was dilapidated until the building was donated to BATC in September 2005 by one of its longtime patrons. Renovations began in 2006 and were completed in 2008.   Today the facility includes a 170-seat proscenium theatre with dressing rooms, executive offices, box office/concession area, art gallery, learning laboratory for arts education programs and an arts business incubator center for cultural organizations to rent affordable office space.
 The BATC is an eco-friendly facility that bans spray painting, uses non-toxic cleaning agents and compact fluorescent light bulbs, substitutes paper flyers with email notices, and recycling bins are placed throughout the office areas.
The theater's excellent acoustics is ideal for plays, concerts, seminars, films, and conferences.  The upstairs balcony suites are well suited for private parties and receptions.
 From ballet folkloric dancers to fine art exhibits, the Bishop Arts Theatre Center has hosted an array of arts disciplines. BATC impacts more than 20,000 children and their families each year via our seasonal performances and student outreach programs.  Call  214-948-0716 for rental rates today.
Remember.  Honor.  Celebrate
Be forever part of the new Bishop Arts Theatre Center and support our theater home:
With a $1,000 gift, your name will be permanently inscribed on the back of a seat in the main stage auditorium,
With a $3,000 gift, your name will be permanently inscribed on a row of ten (10) seats in the main stage auditorium, or
With a $5,000 gift, your name will be permanently inscribed on the donor wall in the lobby of the theatre.
Bishop Arts Theatre Center is a 501(c)(3) organization, therefore, your contribution will be tax-deductible.  We graciously accept gifts in any amount.  For your convenience, donations can be accepted online by clicking on the button below.
Or mail your gift to:
Bishop Arts Theatre Center
215 South Tyler Street
Dallas, Texas 75208
Please make your check payable to:
TeCo Theatrical Productions, Inc. and may you reap one hundredfold the goodness that you sow.