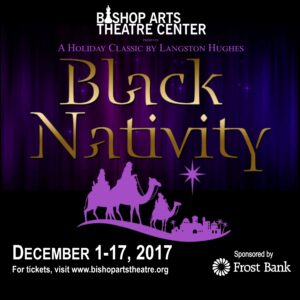 Black Nativity
by Langston Hughes
Directed by Jiles King
Musical Direction by Steven Taylor
Choreography by Zebretta Johnson
Audition Date: October 7, 2017, 9:00 AM – 1:00 PM
Callbacks: October 8, 2017, 5:00 PM – 8:00 PM
Rehearsals begin the week of November 6, 2017.  There will be time off for Thanksgiving once cast and scheduling have been confirmed.
Show Dates:
Runs December 1 – 17. (Fridays and Sundays at 7:30 pm, Saturdays at 3:00 pm and 8:00 pm)
Synopsis:  Black Nativity is a retelling of the Nativity story. Traditional Christmas carols are sung in gospel style. Black Nativity is a holiday staple for Bishop Arts Theatre Center and a family-friendly event.  Done it two acts, the first act is a retelling of the Nativity story and the second act is set in modern times in a church setting.
The Details:
Bring (1) headshot and resume
Prepare (1) 32 bar cut of a gospel, contemporary, or gospel style song. Please bring sheet music in appropriate key for the accompanist.
Prepare (1) 1-minute contemporary monologue
Seeking a multicultural cast of all ages.
If called back, please be prepared to move
Rehearsals will begin Saturday, November 1 running Mon – Fri 6 PM – 10 PM and Saturdays 10 AM – 6 PM
All actors are compensated.