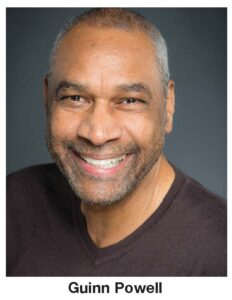 "The millions of stories told within The 1619 Project echo my own story and that of my family's history. All of my great-grandparents were born into slavery. My great-grandfather Norman Sparks was born in Virginia and so were his parents. All of my great-grandparents were born in eastern states and were moved to Texas as the new slave state was opened. After Emancipation several of them were labeled as Mulatto on the U.S. Census, being of mixed race, the biological children of their enslavers. I carry their DNA too. In 1869, in Paris Texas, during Reconstruction my great-grandfather, Gilbert Bramlette registered to vote. His name is found on the same registrant ledger as his former master who was the brother of the Governor of Kentucky. All of my great-grandparents made their 'way out of no way'. They were sharecroppers until they could own their own farms. Their children would become landowners, college graduates, doctors, architects, preachers, teachers, and even a U.S. Air Force General.
I want my artwork to honor the lives of my Ancestors, what they witnessed and what they sacrificed to make my life possible. We have come so far. I will never know the true extent of what they endured but it's clear to me that their message to their children is to 'Work hard for what you want and never give up on your dream.' Today, I am living their dream and there is still much work to be done!"
Guinn's paintings and artwork explore a range of topics from an honest and thoughtful perspective. A native of Terrell, Texas, he is a graduate of Southern Methodist University with a BFA in graphic design. His paintings are characterized using everyday themes seen through the eyes of an African American for whom recognition and a conceptual approach play an important role. His art reveals an opportunity to explore life in a picturesque east Texas rural community through the eyes of his ancestors. His focus is on the multi-layered nature of art, aiming to depict the complications of life through a combination of color, texture, and symbolism. He has exhibited at various venues in the D-FW area and his work has been frequently awarded and recognized.
"I do not limit myself to one medium, style or concept. Inspiration and ideas change. Knowledge changes. Each piece I create is simultaneously an extension of my heritage, where I've come from, and what I've learned, as well as a reflection of the challenges we still face and the hope we hold for the future."
IN THE BATC LOBBY: Visual artist Guinn Powell presents REFLECTIONS, artwork inspired by The 1619 Project. Saturday, February 11 at 7pm MEET THE ARTIST