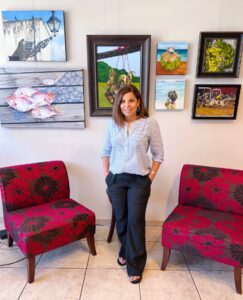 An award-winning artist from Puerto Rico. She loves nature, music, people,
and good food! Her art is just one of the many ways she expresses this.
She works with a variety of different mediums but is most drawn to painting with oils. Her artistic nature shows through in everything she does. Her meticulous paintings preserve on canvas, her inner strength of spirit. There is precision but also delicate brushwork in her paintings.
Magali's paintings capture the Spanish façades, African rhythms, Indian symbols, and natural beauty of Puerto Rico, where she grew up. Many of these paintings are also inspired by her travels around the world.
In her words, "I find so much beauty in the differences and similarities of diverse people and places."
Magali has a studio in Historic Downtown McKinney and participates in a wide variety of community and charity events. Some of the events include; Arts and Music Guild in McKinney, The Cove,
Unique By Nature, MAST, the TX PRF, Visual Arts Collective of Dallas, the Visual Arts League of Allen, the Poetry Society of Collin County, and the Board of Directors for the Art Club of McKinney.
FIND MAGALI ON SOCIAL: FB | IG