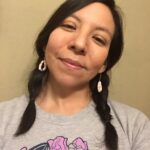 Tina Medina is a Dallas artist and Professor of Art at Mountain View College. She earned her Bachelor of Fine Arts degree at Texas Tech University and Master of Fine Arts degree at the University of North Texas. Her art has been exhibited locally at various venues in Dallas and in Austin.  She was selected by the Mexic-Arte Museum, in Austin, TX, to be showcased in the 7th Annual Young Latino Artist's Exhibition, as well as awarded a solo show at Women and Their Work Gallery. Tina's work was also featured in national exhibitions at Galería de la Raza in San Francisco, Arizona State University and the National Women's Studies Association Conference, Walker's Point Center for the Arts, Wisconsin. She curated exhibitions such as Ojo: The Unexpected: Contemporary Latin American Artists of the Metroplex, ELLA: Exhibiting Local Latina Artists at the Dallas Latino Cultural Center and Her Obsidian Intentions: Contemporary Latina Artists. Recently, Professor Medina presented at the 2016 Latino Art Now conference in Chicago, Illinois and her work was displayed at the Galería América of the Institute for Latino Studies, University of Notre Dame, Indiana.
Website: www.tinamedina.com
Works are available for commission upon request.  Please contact artist through their website.
The gallery is open during performances and events at the Bishop Arts Theatre Center.