Rich O is a native of Seattle, WA.  However, when asked, Rich says that his career as an artist began shortly after his family moved to Texas in 1985.  "I found so much pleasure just playing outside with crayons and paper for hours at a time," says Rich.  A prolonged appreciation for art and education ensued as he participated in enhanced learning and gifted & talented curriculum throughout his schooling.  After graduating High School in 2000, Rich's artistic interests carried him into the arena of physical fitness.  Using the human physique as his new canvas, Rich would invest a great deal of himself into being a personal trainer for the next 15 years.
"Working with clients in the gym gave me a unique perspective on how important it is to have a clear understanding of what the client is expecting.  We as artists, must literally go behind the eyes of our clients and arrive inside their mind.  We must extract, distill, and express what they see, because they cannot.  That is the job of the artist for hire."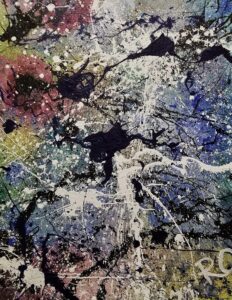 The ideas of education and life-long learning emerged once again in 2013 when Rich enrolled at The Art Institute of Dallas to study for his BFA. It was during his four years at The Art Institute that Rich had a resurgence of inspiration.  Immersed in art studies, Rich also developed a prolific interest in history, philosophy, and writing.  Distinct influences began to include Baroque, Egyptian, Romantic, and Art Nouveau periods, as well as World War history.  It was during this time that Rich had his reconnection with the visual arts.
"School brought about the reconditioning of my hand skills, and once I combined that with learning digital tools, I had a fresh, new confidence," says Rich.
A Dallas resident, these days Rich spends his time with his dog, Kaya.  He is working on completing his first 27-piece collection of painted works while promoting and volunteering with the Dallas art scene.  Projects on the horizon include more abstract expressionism, a new series which focuses on human form and color, apparel branding and prototypes, as well as several graphic design works.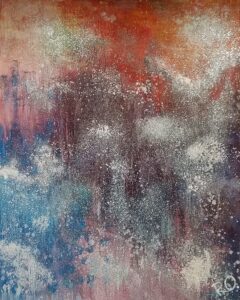 The gallery is open during performances and events at the Bishop Arts Theatre Center.