Dominique Rambo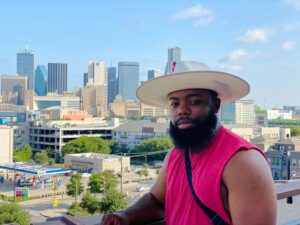 DOMINIQUE RAMBO is from Oak Cliff, Dallas TX, and was born in 1993. In 2019, he earned his Associate's in Fashion Design as a graduate from Wade College. Rambo has displayed an interest in art, specifically drawing, since the early age of six and has taken up creating art professionally since 2006.
In 2019, Rambo was hired onto the FGIII Fine Art Productions team as an Art Coordinator and has exhibited his paintings at various retail spaces throughout DFW, including The Beeman Hotel & Canvas Hotel Dallas. He's also launched a "hat collection" that purposively fuses iconic wearable works of art and fashion. To see more of Rambo's work visit, https://www.instagram.com/dlc2013/
Rambo's "Rose Collection" is currently exhibiting at Bishop Arts Theatre Center through October 2021. His "Rose Collection" series features 18 of 30 acrylic works on 16″ circular canvases. Each work can be purchased directly from the artist for $350 each.
Contact Rambo at Rambo@FGIIIFineArtProductions.com